While we're in the mood for cakes from the Simao Gupu'er company, let's try this "Tea-horse Ancient-road" cake, the name of which of course refers to the historical horseway by which Yunnan tea was moved around.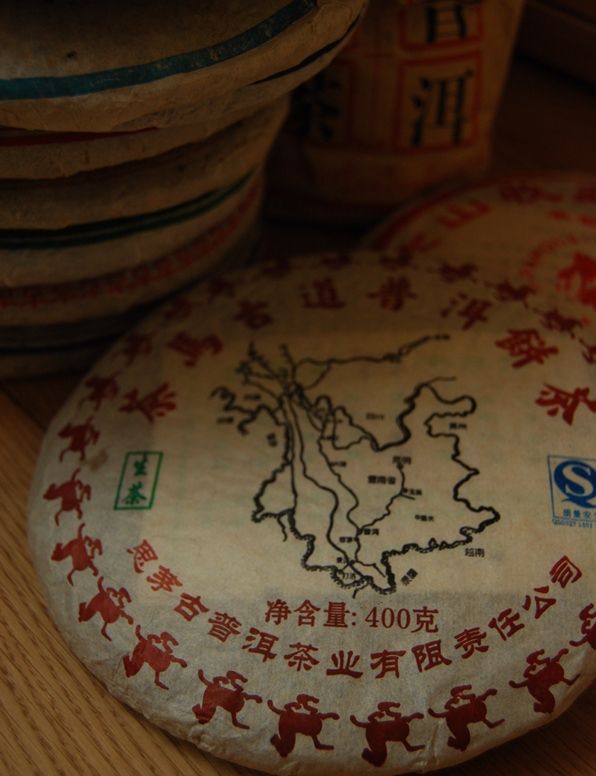 From the above, perhaps you can get a sense of the thick, crude feeling of the wrapper. The cakes from this factory are amusingly chubby, and feel very good in their rough wrappings. There's something rather wabi and perhaps even a little sabi about them.
If you read the recent article on the
Bangwei cake
from the same factory, you will know the drill by now: loose compression, healthy leaves, aged wonderfully in the sticky humidity of Singapore.
Perhaps the leaves are a little smaller than the Bangwei variety. Noting that most of the output from this producer is made from their local Simao-prefecture leaves, I suspect the same to be true for this blend.
What have we here? This is cake of the old school, being crammed full of camphor scents and flavours. It is bold, sharp, and tastes like something out of the history books, wound back to a younger age.

Camphor pu'ercha seems to be a diminishing genre, and I do so love to emcamphorise myself when at the tea-table.
A quick search via Taobao reveals that this sells for a measely 90 RMB, which is not a lot at all. For something that is four years old, and very enjoyable, that's a great deal. Of course, it may or may not come with four years of Singaporean storage (!), but, chances are, it's worth a shot for such minimal outlay.

I like it very much - thanks again to Keng.