The only other Simao Gupu'er cake that I have tried was also from Keng, and it was a
2004 bingcha
made entirely from huangpian [yellow leaves]. The nice thing about pu'ercha is that there are so many varieties one can often find something delicious released under a previously-unknown label. It pays to have an open mind with pu'ercha, perhaps as with most things.
The 2005 version of this cake sells for around 300 RMB on the mighty Taobaowang, and, as you will see if you go a quick search, the wrapper (pictured above) hasn't changed since 1999. I like the consistency of their output.
Looking at the photograph above reminds me how charming this cake seems in both appearance and aroma. The leaves are chubby and whole, and the compression is loose such that a gentle nudge is all that is required to liberate a quantity sufficient for a session.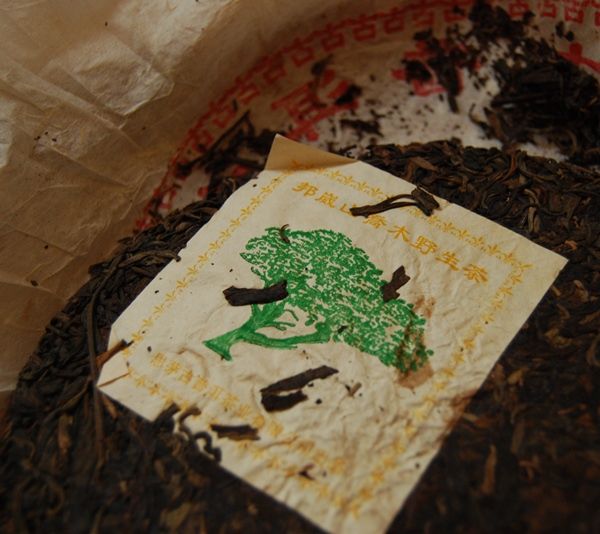 Bangweishan [bang-way] is a mountain in Lancang County, which is in Simao (i.e., quite a way north of Banna). This shouldn't be confused with the Lancang [Mekong] river, which obviously flows for many hundreds of miles, nor with Lincang prefecture, which is another big region even further to the north of Simao. (Phew, Yunnan geography...)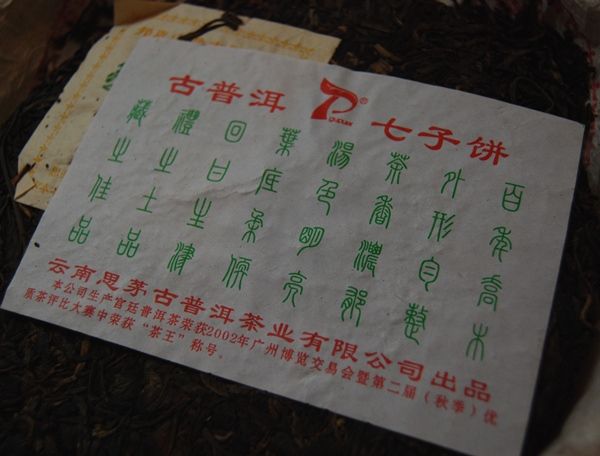 The loose, whole leaves have a somewhat humid aroma, which I take to be courtesy of the fantastic environment (for pu'ercha, if not for sun-fearing Britons) in Singapore.
This is just five years old, but it already has a heavy, orange soup, as you may see below. This is thick and silky - an exceptionally smooth and slinky tea. In the finish, whispers of vanilla, that it probably picked up from the rather humid environment.
It is not the most powerful cake in terms of flavour, and I pile in some more leaves to see what happens. The result is cooling and pleasant. This cake is dominated by its smooth texture and sharp-wood character. My breath is chilled, as if by mint, while I wait for the water to brew between infusions.
Many thanks to Keng for a fun, nicely-aged cake.