Youleshan is one of the old famous mountains of Xishuangbanna. These days, it is called "Jinuoshan", named after the "Jinuo" minority (who used to be called the "Youle" minority), one of the very many minorities (in contrast to the dominant Han) encompassed by the P.R.C.
Today's article compares two Youleshan cakes, kindly provided by
Jakub
. (You probably read his excellent blog already.)
We start out with a cake from the "Jinuoshan Tea Co.", with whom I have no experience. Based on the evidence of this fairly shocking cake, I can't imagine myself pursuing their products with much enthusiasm...
The leaves, pictured above, are small, but have very little scent.
In the cup, it all goes woefully, terribly wrong: despite the fact that this cake is seven years old, it has a strong buttery flavour, as if it had just left the wok a few months ago. Most extraordinary is its floral, almost wulong-like floral characteristics.
Bizarreness continues as the feeling in throat is a heavy, tar-like flavour of actual molasses and strong licorice. There is very little kuwei [good bitterness], and it is hard to identify this tea with pu'ercha at all. Heaven knows how such a character could be contrived. I dread to think.
The fact that this cake, pictured below, is sold for just $37, despite its age, at
Chawangshop
suggests that there is an understanding that this is not the most exalted cake to reach the market. The notes on the company's web-page note a "peachy fruitiness", which could be the wulong-like floral aspects that I found.
A crazy, crazy tea.
I drank the above tea on a public holiday, and thought "I need some real tea", to continue my session. I turned to the safety of the 1998 CNNP cake from the same region.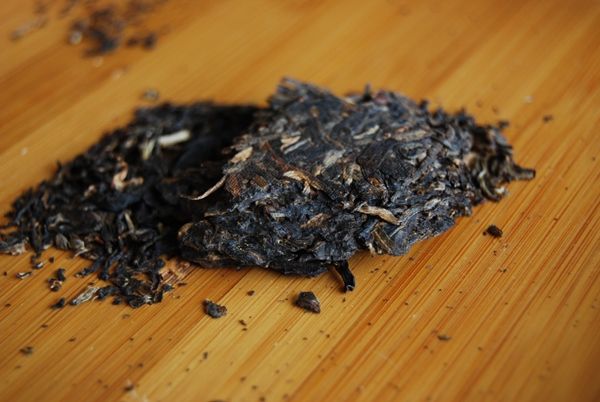 This little fellow is sold for just $68 at Chawangshop. The compression, as you may probably deduce from the photograph above, is tight. You can make out the imprint from the hydraulic press. The leaves are small and fragmented, suggesting that this is a more down-to-earth production, in line with its reasonable price.
The leaves are so compressed that I assumed it would take a while for the soup to lift off, but the first infusion turned out to be warming and decent. Chawangshop notes that this cake was stored in Xishuangbanna, which is a decent place to keep tea, thanks to its humidity and temperature, before being moved to drier storage in Kunming. This latter period has had a noticeable effect, producing a sharp, clean profile. However, a background of rich spiciness suggests that its earlier, more humid, storage is not absent in its effect.
Perhaps expectedly, after its spicy, "red" warmth has passed, the tea becomes a little more ordinary. It fills the mouth well, and has a gently cooling sensation. While it has no real huigan [returning sweetness in the throat], it might be more fair to say that it has "huitian": a shorter sweetness, that is not the deep throaty resonance of real huigan.
I'm grateful to Jakub for this pair of teas, and particularly enjoyed the second, whose stable, warming character was welcome on a cold day.