I didn't quite realise how lively the pu'ercha "scene" can be in Eastern Europe. I have recently been exchanging samples with teachums old and new from places around Slovakia and the Czech Republic (both beautiful areas of the world, and famous holiday destinations for the English), and am impressed by just how much tea you chaps are drinking. And good tea, too.
Following the trend, it should be unsurprising to know that there is a new tea business catering to this burgeoning community, and to folk further afield such as those in damp old England. Peter of
Pu-erh.sk
very kindly sent me a package of some of the hand-selected cakes that he has started to sell. They look darn good, to be honest.
The last time I had a cake from Mannuo, it was the
leviathan
from Essence of Tea. Actually, I think that might be the only other cake I've had from Mannuozhai. I bought a tong of it. So, you might say that this cake has a lot to live up to. Happily, it stands on its own just fine.
My mother, who is visiting us for the week-end (although I suspect she's really visiting her young grandson) passes by the tea-table and notes the sweet aroma of the leaves, so obviously has it filled the room.
"This seems as if it might be a first-class tea", I seem to have written. The soup, pictured above, is a dazzling yellow, which has the heavy, sweet scent for which one would hope.
Satisfaction is a cup filled with smooth, slick texture; vibrancy on the tongue of an almost effervescent nature; everlasting sweetness in the throat. In common with the Mannuo from Nadacha, this has low, punchy fruity characteristics, blended into a base of clean cereal. There is a lot to discover, and I greatly appreciate teas with the complexity and strength to keep me interested over a long tea session. I'm not a difficult man to please when it comes to tea, but I really appreciate the fine detail of this cake.
I keep adding leaves and am rewarded with thicker and stronger brews. The kuwei [good bitterness] is forthright and uncompromising, and yet it is bound up with the charming characteristics that I described above.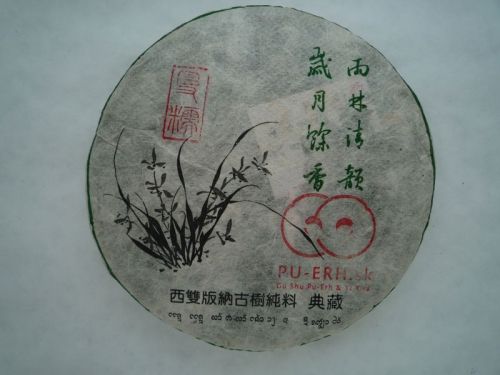 At $33/250g ($47 / 357g equivalent), this is priced nicely. In real money, it is £29 for 357g, which compares well its peers (which are becoming ever more expensive). I have to say that, excellent as this tea is, it does not quite scale the heights of the more expensive Nadacha cake, but it is a close-run contest. If you are looking for more Mannuo, or just darned good tea at a decent price, you really should consider Peter's cake. I had a thoroughly enjoying morning with it - thanks again for the sample.