My teachum Mauricio lives in Argentina. When not playing polo, consuming steak and Malbec, and militarily occupying the Falkland Isles, Mauricio likes to enjoy good tea, and has been generous enough to send me a huge pile of it recently.
The first of samples that I tried was from "Clouds", a Hong Kong-based solicitor (as far as I recall) and collector of pu'ercha. Some may remember him from various Hong Kong tea forums, where his robust put-downs are continually amusing. "Oh no you ditn't!", I often chuckle, in my best faux-New York accent.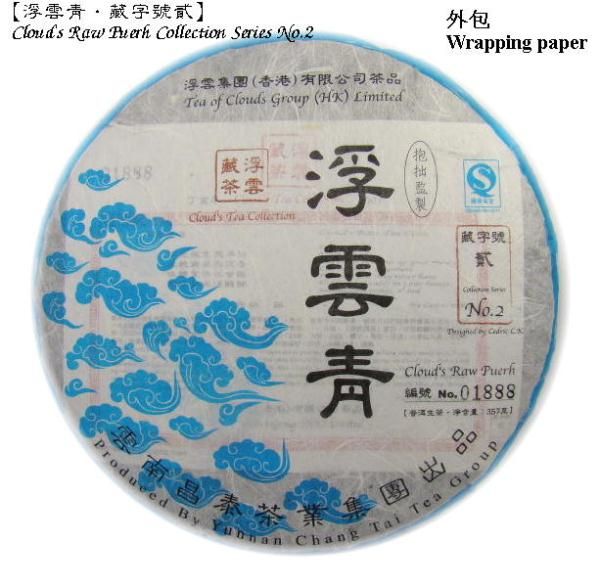 The cake shown above is from Mr. Clouds second series of "own brand" cakes, pressed by the ever-cooperative Changtai Tea Company. It sells for around $40, which is most reasonable. In this world of spiralling "boutique" prices, it's a great pleasure to see someone as reputable as Clouds aiming for a sociable bottom line. I think there's a good market for decently-priced, robust cakes.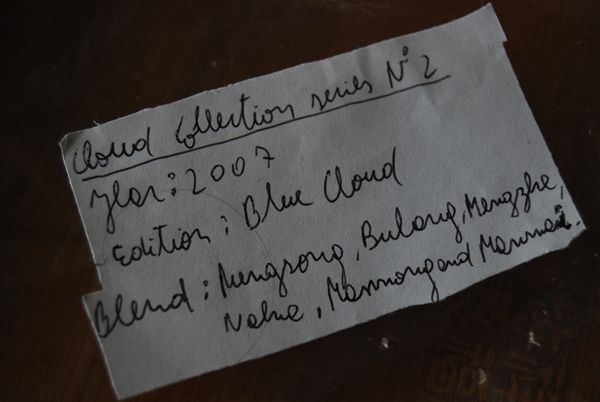 As Mauricio's sticker above denotes, the leaves come from all over the place. I can make out Mengsong, Bulang, and Mangzhi, and possibly Naka and Manmai. The Clouds web-site also lists "Mannong", but Cantonese doesn't map into Mandarin very readily, especially if you exhibit suction with both dialects.
The cake is quite dark already, as may be seen above. You can also discern that the blend is quite well compressed, and that it contains everything from tips to larger leaves, in fragments of all sizes.
It brews yellow-orange, with no aroma, and has an "old fashioned" character, consisting of dense sweetness and long throatiness. I suspect that Cloud's tastes in pu'ercha run to the more traditional, given the extent of his own collection in that area, and it is rather a nice change for me.
This cake is also rather a hit with my son, Xiaohu. "Daddy! Tea! Lap!" He looks up at me, trying to climb up my legs, as if they were a ladder. I lift him onto my lap, and we find his own little cup, which he uses with surprising excitement. "More please!" he exclaims, after swiftly finishing his portion. "Did you like it?" I ask, wondering how the sharpness will sit with a toddler's tastes. "Yes! Nice!" comes the reply.
Xiaohu hangs around for four infusions, which is quite a lot of tea for a little stomach. Then, it's back to his books to look for pictures of dinosaurs. "Pteranodon!", I hear. It must be weird having Lei and me as parentile units.
The tea has a good background of sharp sweetness, of sufficient power to last well. Strong, clean, with a reasonably thick body, it is a good blend. The robust, heavy base and piercing sweetness remind me of long tea sessions in Beijing, where the teas are typically in this style with the drinkers that I've chugged alongside in the past. It isn't obviously from one region, and fulfils the remit of a solid blend. "Slightly aged taste", notes Clouds, which is just about right.
With a very similar wrapper, the "Special" version of this cake costs just $2 more than the unspecial version. I like the honest, straightforward description of "Special", rather than anything more nauseatingly poetic; solicitors are not taken with flights of poesy.
I don't think that I could tell the difference between the two raw cakes, if I didn't know their labels (pictured above). Perhaps the leaves are marginally less broken in the "special" cake.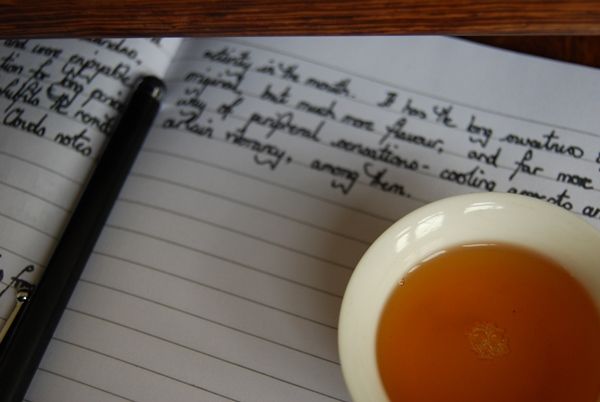 This has the same yellow-orange colour as the ordinary version, but has a lovely, honey-sweet scent in the aroma cup that was absent before. The flavour is deeper and more complex, with much more to keep the attention. It has a "beany" base; a long, savoury sweetness; a cooling finish; more activity in the mouth. It has the long sweetness of the original, but much more flavour, and far more in the way of peripheral sensations - cooling aspects and a certain vibrancy, among them.
Robust, reliable tea at a robust, reliable price; what's not to like? For such a weeny extra outlay, the "Special" really is worth the money.
Many thanks to Mauricio for the introduction to these solid little blends.