I wrote
recently
concerning the extraordinary generosity of His Kengship, the Marquis de Keng. We have much else for which to be thankful, and this article is one of gratitude.
Thanks first to Mr. and Mrs. Essence of Tea, who have bestowed upon us an entirely charming pu'erdao [pu'er knife]. Pictured above and below, the images will fail to communicate the sheer mass of this pen-sized implement, which is so significant that it seems to bend light. It really is extremely heavy.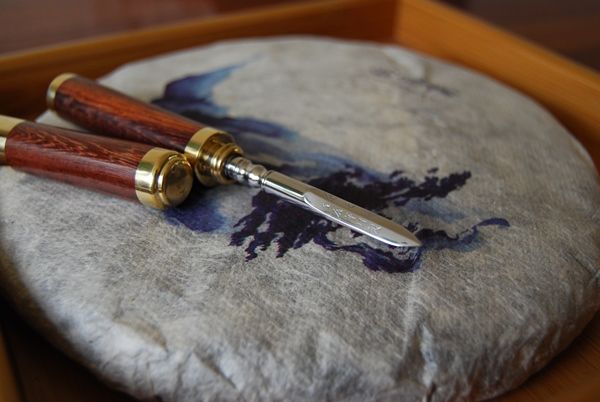 I have long been looking around for good cups, and was iterating ever closer to the beautiful hand-made examples seen around the interwebs. We have long been using some simple cups bought many years ago while visiting Sichuan, and which, while functional and sweet, could certainly be improved upon.
Thanks again to Mr. and Mrs. Essence for including a pair of cups of the type shown below, which have now become permanent fixtures on our teatable. They will undoubtedly be showing up in the images shown on this humble site. Perhaps less obvious, again, is the density of material used in their construction, which causes them to retain heat for much longer than our lighter, lower-quality porcelain cups.
These may or may not be the "late Qing" cups listed for sale at the web-site of Mr. and Mrs. Essence; if so, I can heartily recommend them.
Another long-time teachum, ST, hails from Singapore - the land of the unfathomably excellent storage conditions. His daughter is studying an undergraduate degree nearby, and he was kind enough to send us the charming pot shown below. Its skin is lustrous and its weight is reassuringly heavy. Again, it takes an age to cool, and keeps its heat for as long as one might ever need, such is its construction.
I shown the pot below during its maiden flight, brewing a tea from fellow-Singaporean, Keng.
Thanks to one and all for the lovely gifts, which are most sincerely appreciated - and most frequently enjoyed.