Peter of
Pu-erh.sk
was kind enough to send me a bunch of samples of his recent productions. This is a risky endeavour, because the drinking public (c'est moi) is notoriously fickle! I previously waxed lyrical about a
2009 Guafengzhai
which is, I believe, not for sale, and a
2011 Mannuo
which is for sale. Both were really very good.
Today's trio, I'm afraid, are a little less amazing. However, they made for an excellent session, and a fascinating tour of the region. They all have in common a very good production. Perhaps that which they also share is a tendency towards behaving like good leaves mixed with lesser leaves. Let's examine the facts...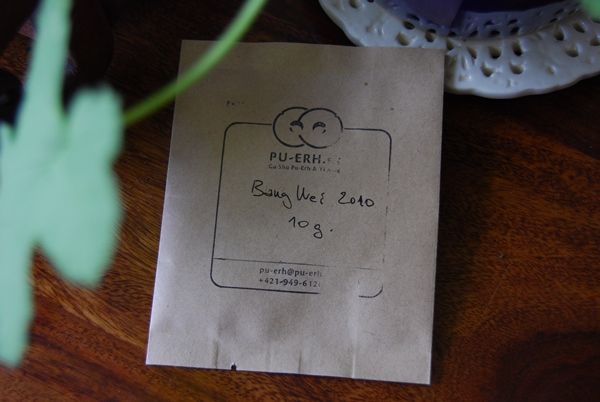 He wrote, pompously presenting his opinions as facts. Naturally, you will take these as but one data-point in a series of noisy observations.
The Bangwei seems to have sold out, which is a good sign. Only samples remain. Peter notes a strong "bitter-sour" characteristic that turns sweet, in his product description.
As with all of these cakes, they look good. Peter, in his tours of Yunnan, has developed a good eye for a pretty leaf, as pictured above.
Bangweishan is in Lancang County of Simao prefecture, north of Xishuangbanna and south of Lincang prefecture. I used to confuse Lincang and Lancang for a long while, but am just about on top of it now. Lancang is a river (the Mekong), and a county, while Lincang is a prefecture (containing many counties).
The soup is yellow-orange; it has an uncomprising, robust kuwei [good bitterness] that I admire. The quality is obvious from its penetrating nature, its endurance, and the smooth-yet-complex series of textures and sensastions that give the attentive drinker something to discover.
After half-a-dozen infusions, however, it tastes rather mainstream, and is dominated by a rather rough, green, almost serrated flavour that reminds me of much lesser leaves. Have the good leaves, which were so obvious in the opening infusions, been "cut" with plantation leaves? I remember Nada, of Essence of Tea, recounting how one farmer from whom he sourced leaves confessed to this practice in some of his earlier dealings.
And so, we cracked open the Manzhuan - sourced from one of the canonical mountains in Mengla County of Xishuangbanna.
Here, there is much less room for manoeuvre. Everyone has tried plenty of "Banna" tea, and it remains a challenge to live up to expectations.
This cake opens well, with a dominant sweetness, and plenty of activity, and so initial impressions are very favourable.
The trouble is, as with the Bangweishan, a distinct tendency towards the ordinary, and rather rough, in a fairly short time.
As a brief test, I passed an anonymous cup to my dear wife, who was writing cards to members of the family, updating them with our latest news (more of which later). She took a sip, not knowing which tea she was drinking: "This is rather simple."
My wife's instantly-given comment does, I'm afraid, rather sum up this tea. It is so very hard to make good Mengla tea, and ensure that the leaves go the distance. I fear that this Manzhuan, weighing in at the equivalent of a sizeable $61.50 / 357g, can't deliver on its promises.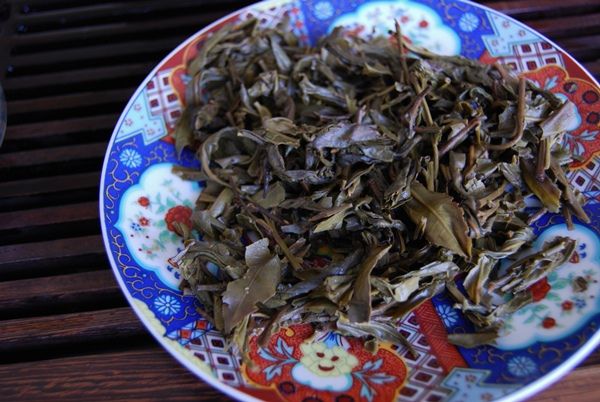 Finally, Yibang. This mighty mountain, also in Mengla County, is famous for small leaves, fruity down-to-earth characteristics, and plenty of fun. I've enjoyed many cakes (mostly from Yunnan Sourcing) from this and surrounding mountains over the years.
Hopes are high.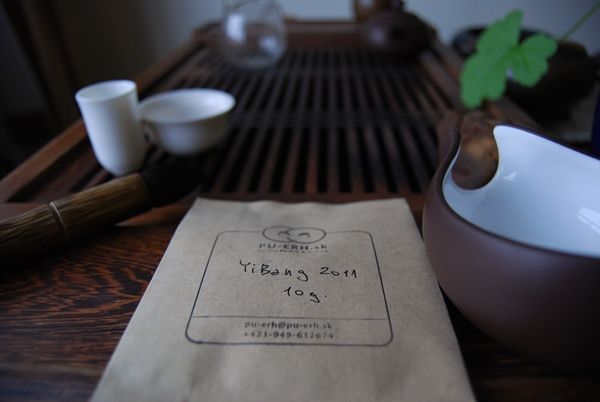 Actually, checking my notes, it seems that all of the Yibang cakes that I've had before were autumnal teas. This is a huge opportunity to impress, then, because the Pu-erh.sk leaves are from spring. I confess to being rather excited as the kettle gets underway.
It pours a straight yellow, which darkens rapidly in the air (pictured below). The scent is excellent in its potent fruitiness and sweetness, and so I remain hopeful that this cake has got it right.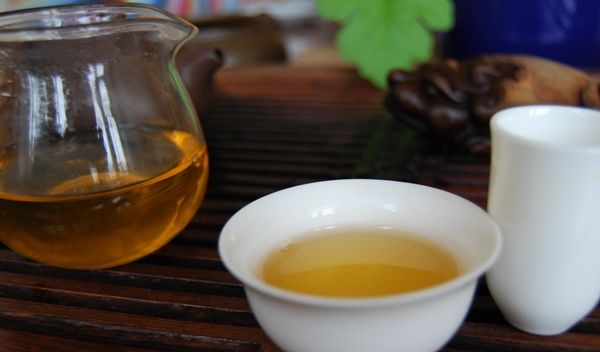 It has a vibrant, dry-cereal aftertaste that I enjoy very much, and has fine cooling sensations in the finish, along with light numbness on the lips. The opening infusions have a seriously potent, heavy "chaqi" [or whichever nearest equivalent term your theology permits].
You know the outcome to this story, however: it has a somewhat empty body which, as infusions pass, becomes only more empty. I pile in more leaves in an attempt to compensate, so that the pot is entirely full, but this only delays the inevitable collapse into leafy green territory.
All of these teas opened well, which suggests that tasting maocha may be susceptible to the lure of the early infusion; only the best leaves (and those maocha not "cut" with lesser leaves) can make the sustained march into later infusions that is a prerequisite of good, proper pu'ercha, however.
Thanks again to Peter for the generous gesture in allowing me to try his output so far; there have been some genuinely impressive cakes in the line-up, and I look forward to seeing future successes in 2012 and years to follow.