The American notion of suction for things that are bad or displeasing is tremendously amusing to me. I think I would make a fantastic American.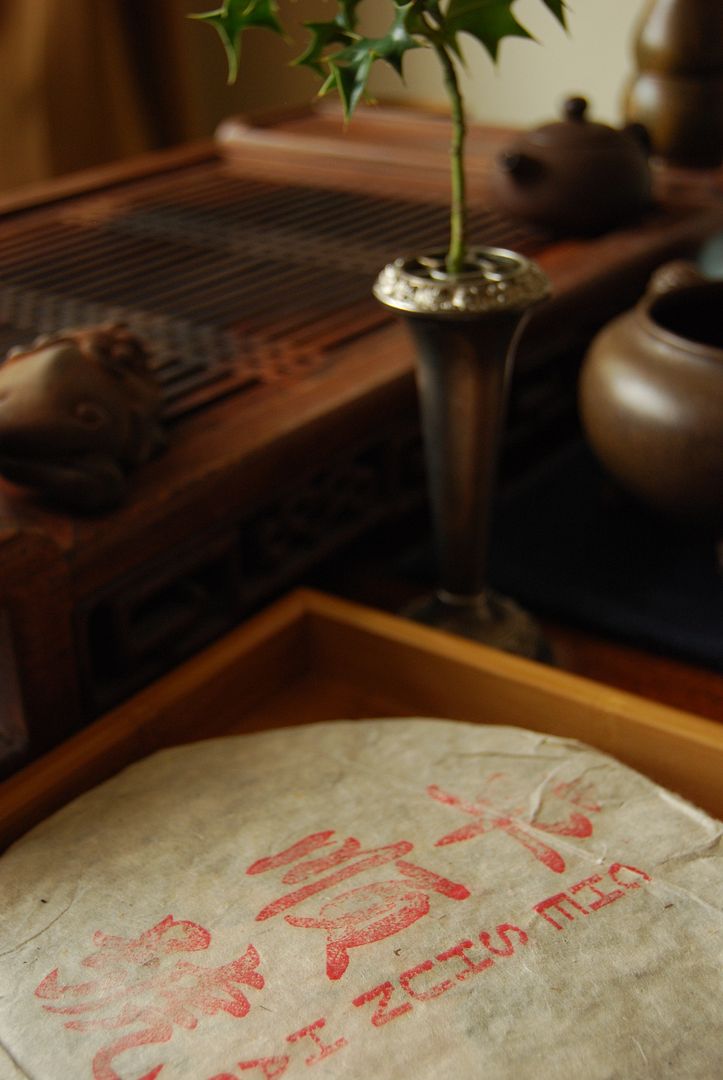 Apache very kindly hurled a cake of this 1995 Cheshunhao [approx. cher-shun-how] my way, and he was extremely cautious in doing so. I get the impression that he perceived this cake to be worringly damp in storage.
Hence, my concern about this cake's suction.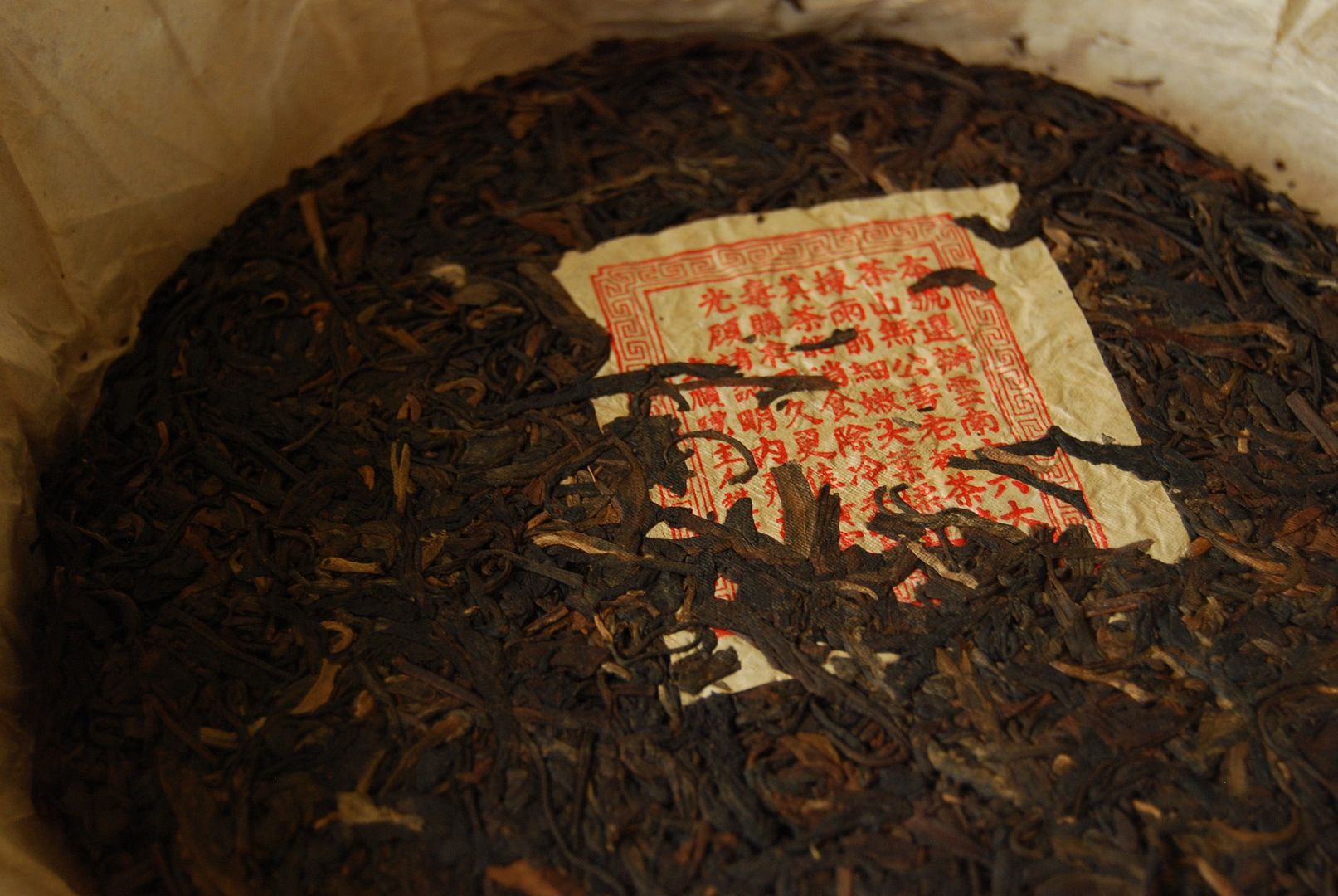 By now, you are undoubtedly thinking "this is dark". Before we get into all of that, we must make very clear that this is priced at a very humble 168 RMB (approx. £16 or $27) via Taobaowang. It looks oldish, and has absolutely no markings excepting those shown above, and so its rock-bottom price lends us pause.
We therefore scale our expectations, and are in "bargain tea" evaluation mode. Given the humble price, you have to admit that the leaves are rather decent: as shown above and below, they are long and only somewhat fragmented, although the blend is a bit "rugged".
Simple sweetness and extreme cooling sensations make this a very interesting tea. The dense, heated humidity is present, but historical - in that it has aired out a great deal. The aroma that so terrified Apache does not translate into a particularly rancid feeling in the mouth. It is undeniably good for around £17. I found it comforting, and, my journal notes, "a fine tea for writing; an undemanding companion."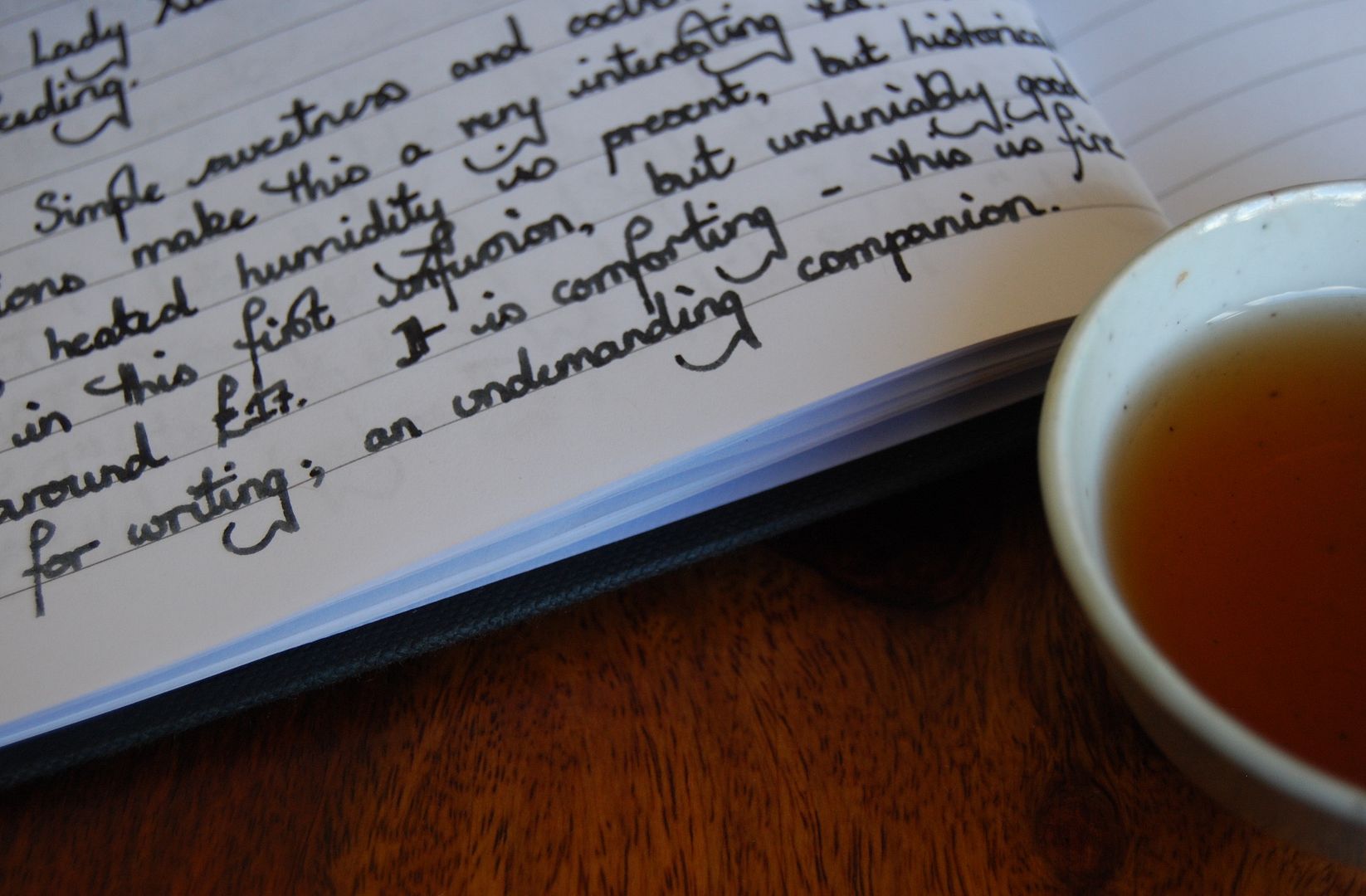 Teas like this are never going to be the subject of a careful tea session. If you have time to sit at the table and dwell, the time is best spent with real tea. However, for casual sloshing around in my lab, this combines a surprising amount of caffeine and continuous, unchanging sweetness with its undemanding nature. It's thin, it's a bit boring after half-a-dozen infusions, but it is only £17 for something that is probably at least 10 years old.
I then come to the part of my drinking process in which I try to imagine if I "need" this tea. Looking at my "potential suction" regions of our tea-shelves, which usually form the basis for exporting to the lab, I don't imagine that I will be buying any of this. One cake is more than enough for me, given that I have plenty of fodder to get me through my working week. However, while unlikely to impinge greatly on my shelves, if you're looking for a lo-fi, no-frills, undemanding return on the investment of a meagre 168 RMB, you can't really go wrong.
The combination of humble price and decent return reminded me of the modus operandi of twodog2, but I can't find his writing on this cake after much time spent trying. Programmers: how about a Google Scholar equivalent for tea?