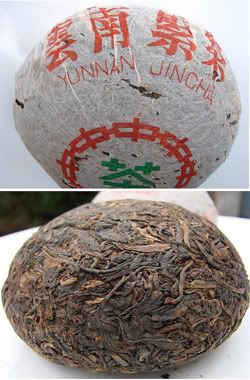 It's the Mayday holiday: traditional English folk dancers (Morris dancers) are combing their beards and polishing their batons, young girls are getting ready to dance around the maypoles. Best of all, it's raining, and we're going to try this
tuocha
from
Houde
.
In the product description,
Guang
notes "fruity acidity", and then goes on to talk about the "minty" aroma. I've not found any other notes on this tea - as always, do please point me in the right direction if you have.
The "zhubao" [bamboo wrapped] refers to the enclosure of the tong. The "jincha" [tight tea], visible on the wrapper to the left, is no understatement.
The first point to note is that it has that familiar
Xiaguan
uber
-compression. This is one tough little tea. In fact, it rather reminds of me of some of the specimens in my collection of
cropolites
[fossilised dinosaur droppings] that I so proudly maintained as a boy. The pieces dropped into the pot with an ungainly "thunk". Not a tea for polite company.
~15cl

Caledonian

Springs @ 100C in 35cl aged

shengpu

pot; ~5g of leaf; 1 rinse.
Dry leaves:
Excepting the previous
comparison
with thunder-lizard excreta, this is dark tea, with a few lighter-brown leaves that look as if they could have once been tips, from the fur. A good, shiny appearance all over. A wry smile crosses my lips as I detect no mint whatsoever in the aroma.
15s, 15s, 20s, 25s, 30s, 35s, 40s, 45s, 50s, 55s, 60s, 120s:
Fusty lid-scent with an alkaline finish. The wet leaves are, as Fate would have it, a bit on the minty side. The soup is a good orange, but nothing that would indicate the supposed 20 years of aging; this looks more like 10 years, from the colour. Clearly, the tight-as-tight-can-be compression has hindered its aging.
Already, in the first infusions, the potent
chaqi
is evident. This reminds me of
a recent article
penned by
MarshalN
regarding the potency of some
Gedengshan
maocha
. This is a deeply powerful tea, seemingly loaded with caffeine - it sits right in the
forebrain
, like a strong coffee.
The character of the tea is very sweet, with a broad base of honeyed woodbine (particularly in the aroma), but covered and interpenetrated by a constant tone of bitter-sweet
gan
. This tea still has much of youth about it.
The finish in the back of the throat is particularly green, leaving a certain rawness that was quite surprising for a tea that one would have hoped was leaving middle-age.
The greenness in finish and power continue throughout the infusions, during which a 2-hour intermission took place as we went out for our daily walk. This tea is long, and strong.
Used leaves:
Diced, thoroughly. A decent grade, in that the leaves were once small (when whole), but they have been rather brutalised.
Overall:
The immensely high compression is this tea's undoing. It reminds me of a pupil who spends a lot of time in class, doing all the homework, putting in the hours, but not getting anywhere. This tea has been aging for two decades, but has the accomplishments of one but half its age, which is a shame indeed. It's a good tea, with good aging "potential", given its lovely woodbine flavour and continuing potency, but... do you want to wait 40 years to get a 20-year-old aging? It's almost too harsh to enjoy at the moment, but is drinkable enough.