It's great to be back. I say that every time, and every time it's true.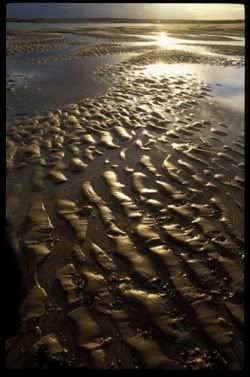 After the May Ball (congratulations to my cousin on squeezing through our lavatory window in a dinner jacket and bow tie,
pre
-dawn, with a 6-foot drop beneath it), we headed to Wells-next-the-Sea, pictured right - a remote, uncompromising, but ultimately very pretty town on the east coast of England. Tea consumption was limited to great drafts of Assam with "traditional English breakfasts", synonymous world-wide with immense quantities of bacon, sausage, and black ("blood") pudding. Delicious. It seems that we're not all that distant from our Saxon ancestors, after all.
While I have the pulpit, do allow me to read the notices prior to today's sermon:
i) Lisa @
TeaCuppa
e-mailed me today to say that the samples were posted (on Monday, 7 May) to those joining
the tea-tasting exercise
. Hopefully, this means that you should have them either this week, or next week, depending on your location. Perhaps
LZ
and John, being in Mainland China, even have theirs already.
ii) Carla and Bill: I've just posted various samples to you (unrelated to the tasting event), so do keep an eye on your mailboxes.
And there endeth the notices. Let's drink some tea.
Today's two
shupu
were samples from
VL
- thanks again, good sir.
Laotongzhi
refers to "old comrade", while the "
gongbing
" indicates "tribute to the Emperor" status. That last one is a little tricky to justify, given the marked absence of Empire for quite some time. In the following, the
Yushan
and
Laotongzhi
Gongbing
are referred to as A and B, respectively, and appear upper and lower in accompanying photographs, respectively.
Caledonian

Springs @ 100C, 12cl

shupu

pot; ~5g of leaf; 2 solid rinses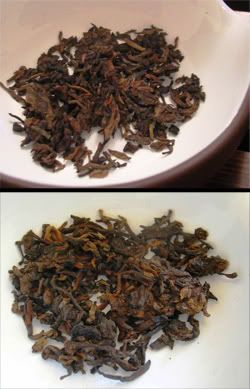 Dry leaves:
The photograph is a touch uninspiring, but this
is
shupu
after all - there's not a lot to see.
A: matted dark- and mid-browns, in 2cm lengths. A sweet and really rather pleasant aroma, but nothing extraordinary - again, very much like most
shupu
.
B: rust orange, very much like
chuanhong
. Decidedly standard
shupu
aroma.
10s, 15s, 25s, 30s:
A: Rich and red, with good clarity. Well-balanced aroma carrying over from the dry leaves into the
wenxiangbei
- burnished sugar and treacle. This is a very decent opening flavour, with a malted texture - sweet and rich. It's decidedly pleasant - not
great
, but pleasant nonetheless. The aftertaste is enduring, with currants and sultanas. The leaves have the aroma of Chinese red dates.
B: "sweet, almost like syrup". Thick
muscavado
sugar in the
beidixiang
. Something of fresh, sprouting beans in the flavour. "Very rounded, yet not very deep - no sharpness at all." The texture is soft for a
shupu
. The lid-scent is "like an old Chinese medicine shop".
Used leaves:
It's
shupu
- they're dark and standard, both of a generally small grade. Conclusions are hard to draw from this most
homogeneous
of genres.
Overall:
A: Sweet and gentle. It's not complex or wonderful, but it is enjoyable within its class. Inoffensive, and therefore not worth buying.
B: A shallow treat. The better tea, but again not enough to actually warrant a purchase. There is simply too much better tea out there to buy
Haiwan
2005
shupu
.
VL
has provided some
accompanying notes
for this pair of teas, drawing broadly similar conclusions, but observing something more noxious in the
Yushan
(A), which we may have avoided through being conservative.