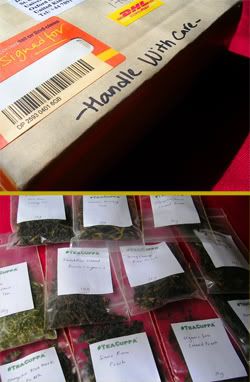 This morning's post brought with it a welcome package: samples from
TeaCuppa
- thanks, Lisa. These were apparently posted about a week prior to the samples for the
Six Pu'er Tasting Event
, and so they should reach their destinations soon.
Don't look too closely at the photograph, as the samples shown are labelled with their actual names, rather than being anonymised for the tasting event!
When you do receive your samples, don't worry too much about being able to determine which is which - I imagine that there are few, if any, folk familiar enough to be able to discern between the younger pu'er. The emphasis here is on collecting what you observe about the samples, and just generally having a bit of fun in the process. We might even learn something.
With one arrival by post, another departure: Xiaomao has just caught her flight out to China, and I am already feeling the loss of her company for the month that she will be abroad. Sitting down and performing gongfucha today further emphasised her absence, as it something that we usually enjoy together. On the bright side, I don't need to shave for a month(*).
*Perhaps.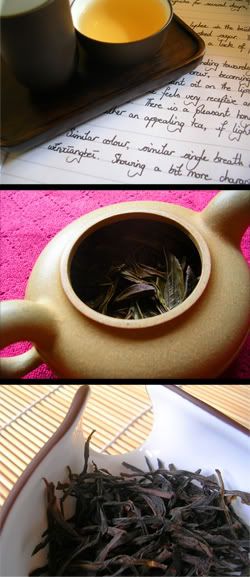 So, then, the Milanxiang [honey orchid fragrance] Dancong. I've warned Lisa that I plan to be objective in my assessment of these samples, recalling the recommendation of my
Yijing consultation
to do so. No one wants to read a biased review. Let's cast a fair eye over this tea, well-suited as it is in its cheery and light character to pushing aside the gloom of an English rainy day.
Having not enjoyed a good tea for several days, this sample does find itself already at an advantage, in that I am looking for something enjoyable, and have a clear, anxious palate. Drinking teabag Assam has been my fare for the past few days, having been on research trips away from home each day - engineers apparently have an appropriately practical approach to tea.
Caledonian Springs @ 90C in 12cl nongxiang wulong pot; ~7g of leaf; 1 rinse
Dry leaves:
Pretty, as you can see. Long, twisted, and ranging in shades of brown from dark to light, with some greens evident. As we wait for the water, while I write this, the bewitching aroma radiates from the chahe: cocoa and sweet creaminess. This tea really does catch me in a good mood.
10s, 15s, 25s, 40s, 45s:
Immediate and obvious lychee in the beidixiang, which lasts just one breath, before becoming a weak lengxiang of cooked sugar. The progression is rapid, perhaps indicating a lack of patience in the leaf.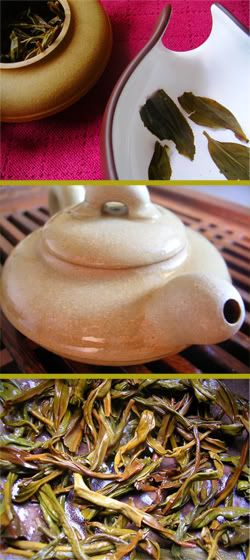 The soup is pale: peach, tending towards green. This darkens to orange past the third infusion. Intense fruits in the thin brew, becoming a gentle honey in the finish. It is light - not one for the hardened chaqi addict (you know who you are). Quite pleasant on the lips, with a decent huigan. The feeling is smooth, with some oil on the lips.
This is a tangy, sour, and "high" tea. It is not well-suited to the dark, buttery depths of our nongxiang pot, which pleases me: justification to buy new pots is always welcome. As always, this tea is making me extremely hungry. Xiaomao and I are rather sensitive to stimulants of any kind, and tea invariably makes us ravenously peckish, even if we've just eaten.
The sour, fruity, honey aspect gives way to the power of sour tea by the fourth infusion - which I actually rather enjoy. I've never been a big fan of ballet, which is what the early infusions of dancong bring to mind. I prefer the heavy, bellowing opera that this tea settles into.
Used leaves:
Very green, as you can see from the photograph. There is little evidence of roasting, and only a brown-red overall hint of their oxidation. A very sweet scent of peaches is about the leaves, even at the end.
Overall:
Friendly and light, with a well-integrated set of honey and lychee flavours, about which a tanginess of tea-flavour plays which takes over in later infusions. Not an overtly special tea, but decent and balanced.