"What on earth is Shuangxiong?" I hear you ask. How does one even begin to pronounce it, let alone drink it?
I have encountered only one example from this producer before, and it (the
2003 Jinzhen Gongpu
) was generously provided by our Singaporean chum, Keng, who was kind enough to buy a tong on our behalf, if memory serves me correctly. It was a lovely cake, featured in the Chinese version of the
Art of Tea
(whose typographical setting is no more accomplished than the English version, you'll be relieved to learn).
As the little chap on the wrapper suggests, this is a Bulang-region cake - I understand that he is wearing Bulangzu [Bulang ethnic minority] costume.
The full name of the producer is "Yunnansheng Yongde Shuangxiong Chachang", where Yongde is way out in Lincang prefecture, far north from the usual tea regions. The company specialises in tea from that area, unsurprisingly, but this particular cake comes, of course, from a more orthodox area. [Shuangxiong, approximately "schwang-schyong", means "double hero", I think.]
It currently sells for 175 RMB on the mighty Taobaowang, but one should search using the traditional characters for "shuangxiong" in order to find the correct cake. (As ever, the more enthusiastic reader is invited to refer to the ever-majestic
Babelcarp
for assistance.)
Psst, Lew: any chance of a Babelcarp app for Android? Your loyal usership pleads with you!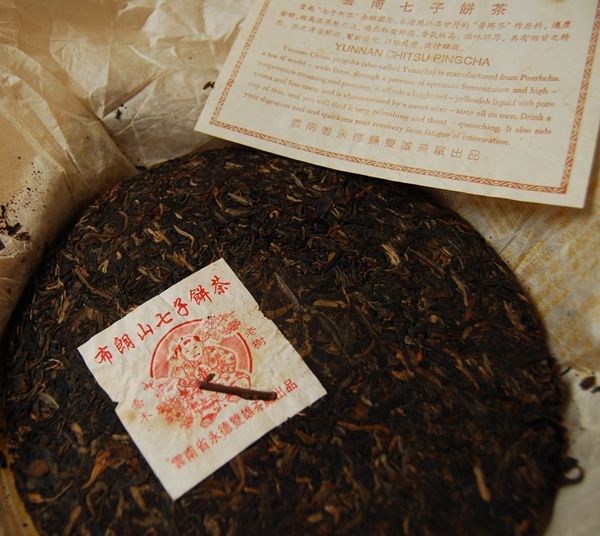 The compression is reasonably tight, and I struggle to liberate a portion of leaves from the bing without breaking them. Even before my clumsy hands commit them to destruction, the leaves seem to be large fragments of medium-to-large leaves. Some seem a touch red; the majority are healthily dark. Happily, some of the tips have already adopted the rusty orange colour of maturity.
I firmly believe that you could buy almost any cake (within reason), give it six years of storage in humid Singapore, and it will come out tasting pretty darned delicious.
Brewed properly (i.e., avoiding overbrewing due to leaf breakage and compression), this is a solid, if reddened, tea. It has a sweet, camphor-like body, yet delivers less of a punch than some other Bulang-area cakes.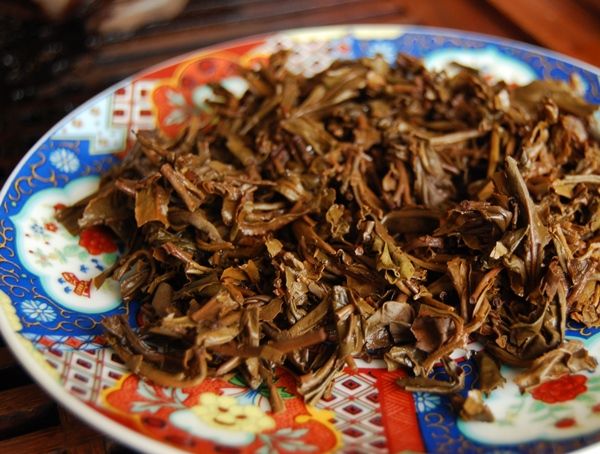 Unlike the 2003 Shuangxiong, I probably won't pursue this to the point of buying more cakes. However, the cake that we do have, courtesy of Keng's generosity, is a great example of solid Singaporean storage going to work on a tea that was perhaps a little more mainstream when it started out its life.
You can't argue with chunky camphor flavours, which do a great deal for making this cake more than it otherwise would be.