I did say that it was not all bad news with my four samples from
Tearoma
. After two oddly empty / strangely stored 8582s, and a Zhongcha tuocha that turned out to be shupu, it is beholden on the Mighty Xiaguan to redress the balance, and make everything right once again.
Someone has to clean up this mess, so let it be Xiaguan.
8653 is a good, reliable recipe from a good, reliable factory. Not yet dreamt of, the various blackened modern Xiaguan incarnations. No, this old recipe is raw, uncompromising, and about as similar to modern "Big G" productions as heaven is to earth.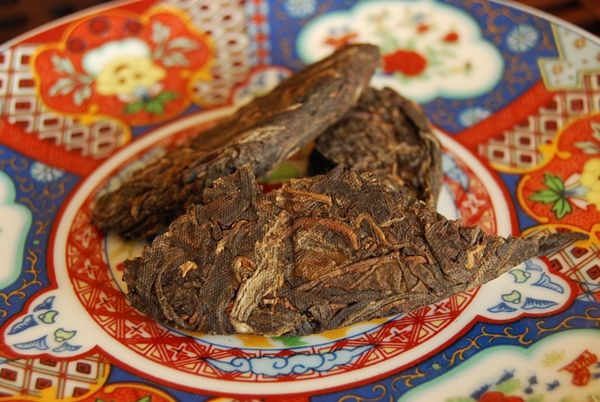 Would it surprise you to learn that this is a "tiebing" [iron cake], fused together in the core of a dying star? I thought not.

As ever, my trusty, rusty, 30cm-long crowbar comes to the rescue. The three chunks from Tearoma are pictured above - using the powers of Greyskull, I managed little more than to remove some fannings from one of them. I gave up, and resolved to let the Universal Solvent do its work.
Choirs of cherubim and seraphim continually do cry: tasty, tasty, tasty. Aroma-cup and tasting-cup are full of its woodiness. Blessed is that tea that cometh in the name of such sharp, pine-like deliciousness.
It cools the breath, it has plenty of energy. It reminds us that some things in the world are worth waiting for. This still has a long way to go, but its interim appearance is thick in the mouth, and very encouraging for its future prospects, given its density and overall level of activity and contents.
At $48, this is a very safe purchase, for what we receive. Amen.
Addendum: it is likely that this cake is not from 2001, and it may or may not be Xiaguan (although its compression, leaf appearance, and flavour indicate that it probably is). Please see the comments for details.