While our minds are on the products of the Luxi Defeng Tea Company, let's consider this Daye Qiaomu [dar-yeah cheow-mu, big-leaf arbor] cake, a sister of the 2010 Pengxiejiao, with its "crab's feet".
While its sister was available for 175 RMB on Taobao, and was probably a single-mountain cake, this cake is a blend of spring and autumn leaves from Gaoligongshan, a range famous for providing leaves for classical cakes, near the border with Burma / Myanmar. I have a whisky tube filled with
1960s Gaoligongshan maocha
, which has come on very well.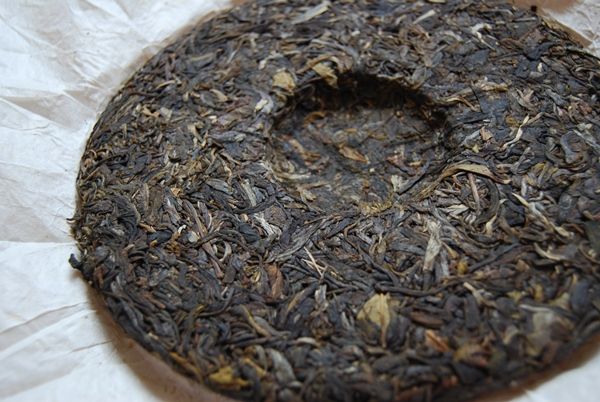 As we can see from the images of the cake, it is constructed using leaves of an appreciable size. Its compression is quite loose, like its sister cake.
The dry leaves tell us quite a lot about the cake - these have a good, heavy sweetness about them, without hint of appearing "red". Perhaps you can see the solid darkness of the leaves in the photograph below, showing those that I prized free for a session.
This is a good, yellow soup -shown below. As with the other Defeng cake, it is a charming example of "outlier" pu'ercha, with, once again, a dry, cereal-crop character, atop a hint of smokiness. I am encouraged by the activity in the mouth, noticing a pronounced cooling sensation and general chunkiness that suggests plenty of sheer content.
It is less "black", in the modern Xiaguan style, than its cousin, and this works to its advantage. It has been blended well, which is a difficult skill to master, giving it complexity and interest without sacrificing body or potency.
I have come to think quite fondly of Luxi Defeng cakes, and will continue to keep an eye on Taobao to see if this chap ever appears. It is a well-made blend, that stays big, bold, and clean.
Even coming back to it the day after my original session, it remains penetrating, smooth, and rather water-drawing in its finish. Citric, sweet, heavily caffeinated. I can imagine running this cake forward in my mind, in comparison to other cakes that I have tried at similar and later stages, and suspect that it might lead to good results in future. There is a rather lot in it. Many thanks to Keng for the opportunity to try it.