Before heading out for Beijing, Lei and I were visited by our teachum who goes by the Internet pseudonym Apache - possibly the world's nicest research scientist, and sometime purveyor of mighty teacakes. This visit, he suggested a concentrated session in which we would drink 7542 through the ages. Genius.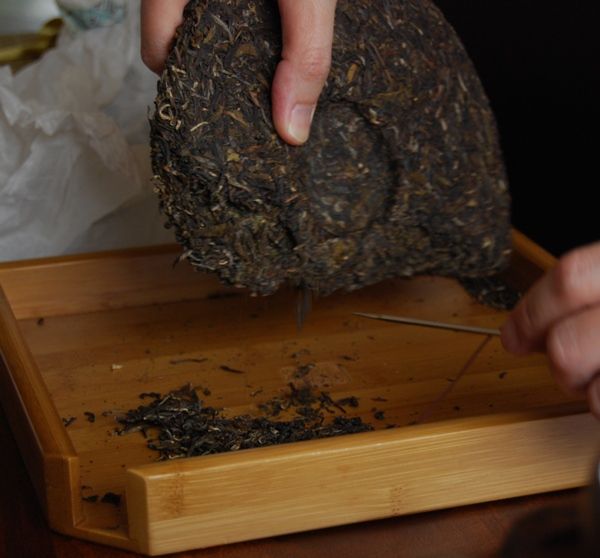 The batting opened with the familiar
2009 Dayi version
. When I last tried this cake, it was in the year of its birth. Some two years later, and it has definitely aged - it is darker, and richer. The massive astringency remains, but it is combined with a slightly transformed version of the Dayi "house flavour". Happily, it is vibrant and cooling. I've not tried the 2010 or 2011 versions, and this reminds me to do so.
Skipping 2008, we move onto a
2007 Xizihao version
. I would not have guessed this, but the bitterness has almost entirely dissipated. It is sweet, and yet cereal, having diverged significantly from the usual 7542 character.
The leaves, shown above, have darkened nicely. Shown below, the soup remains a very definite yellow. Compared with the 2009 Dayi, this has little in the way of huigan, and is less "full" in the body. Perhaps this will pick up again in future - I have a few cakes that have "gone quiet" at 3-4 years, only to revive at a later point.
With the modern cakes safely in the backs of our throats, for comparison, we moved onto the first of the slightly older bunch: the 2004. No Dayi at this stage, just good old-fashioned CNNP wrappers:
This is a dark cake, which can perhaps be seen in the image below. It was pressed by CNNP, and stored in Hong Kong until mid-2009, at which point it was bought by Apache and brought back to Blighty.
It is, also, a surprisingly thin cake, as pictured below. The density of compression is such that the little tea-knife (kindly provided by China Chadao, I seem to recall) is required to liberate some leaves from the bing.
This is the first of the 7542s to exhibit any real age in the colour of its soup, which, as you may be able to see from the gongdaobei shown below, is heading towards a big, fat orange. There is no hint of "Hong Kong" storage; I was anticipating a small amount of humidity to be evident, but it tastes decidedly neutral. It is a touch quiet, as if it has not yet swollen into the fullness of age.
Curiously enough, there was something "fishy" (to me) in its vegetal, almost bean-like, character.
Completing the first half of the session, working in reverse chronological order of cake production, we came to the 2003 Menghai, pictured below.
Apache bought this cake from the same shop in Hong Kong as the 2004. He recalls that, at the time of purchase, this 2003 was significantly less astringent than the 2004 version.
Again, it is a CNNP pressing. Again, the tea-knife is needed - pictured below, Apache uses his native Hong Kong gongfu skills to address the issue of tight compression.
Like its 2004 sister version, the 2003 is quite "dry" in its characteristics, with ne'er a hint of humidity to be discerned. The leaves are a great deal less chopped than modern Dayi versions of 7542, as perhaps you can see in the image below.
Dark wood, malt, and other signs of life appear in the later infusions of this cake, as it begins to open up before us. A more "mineral" character than its sister cake lingers in the leaves, perhaps residue of its humid, natural storage conditions while in Hong Kong.
It has developed into a very pleasant, and highly enjoyable, cake. If our modern Dayi versions tend towards these characteristics, there is sign for hope - and there is evidence to suggest that some of the modern Dayi cakes are at least tending in this direction.
2003 Menghai
We paused to collect our thoughts, before embarking on 7542 through previous decades - saving the best 'til last, and enabling some soothing of our stomachs after battling through the raw, unaged natures of the more modern cakes.
(Notes on the older cakes to follow...)