Mould. It comes to us all in the end.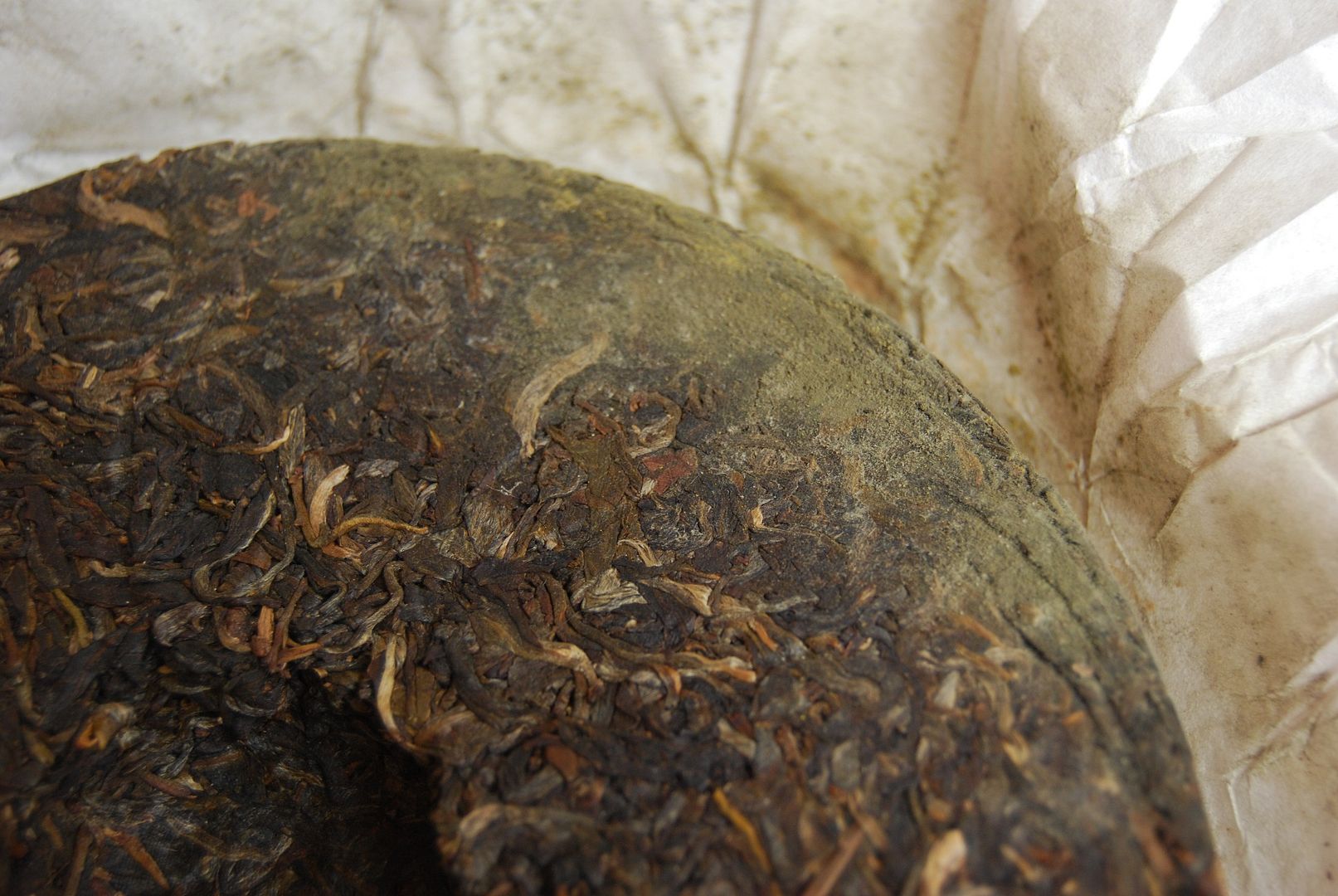 I recently tried out a new location in our house in which to store tea. That is, my main shelves are currently overflowing and I needed to find some new space. "That bookshelf looks ideal", methunk. It was in the same room as the majority of our collection, and therefore would, presumably, share its rather decent aging profile. So was the reasoning.
I promptly evicted the books and bazillion operatic CDs from their home, and popped various cakes onto the new-found space. The results, as you will see from the photographs above and below, are "sub-optimal", to use a statistician's phrase, approximately translating into English as "bloody awful".
The majority of cakes on those shelves were fine, but some three or four had developed dark wrappers. In a recent sweep through my collection to organise and catalogue a few rogue pieces, I thought that I'd bring the cakes down that had such wrappers. Imagine my happiness when I discovered the mould! Oh my, how we did laugh. Or cry. The difference is marginal.
The reason that these cakes suffered, after some few weeks on the shelf, was because of excess humidity (genius, Holmes) building up in contact with an exterior wall. Those cakes not touching the exterior wall were fine. The solution: open up the cakes and brush off the mould with a toothbrush. You can imagine the sight of your humble correspondent, hunched over the compost bin, scraping bingcha. I have now moved the plastic CD cases and glossy books (which were impervious to the damp, over several years) touching the exterior wall. The previously-mouldy cakes are in "quarantine", where they will stay until I deem them fit to return to the population.
C'est la vie. They were only the 2012 cakes from Essence of Tea, so it's not as if they were eye-wateringly expensive.